Dementia poses one of the biggest challenges we face as a society. Worldwide, around 50 million people have dementia and in the UK, More than 920,000 are living with dementia, a number expected to rise to over one million by 2024 (Alzheimer's Society, 2019). 
With an ageing population, people are more likely to be affected by dementia. Currently, 1 in 14 people over the age of 65 live with dementia, narrowing to 1 in 6 people over the age of 80. As the number of people living with dementia rises, the amount of support and care also increases, creating challenges for health and social care providers, families and unpaid carers. 
To alleviate some challenges associated with dementia care, and to provide more support to individuals caring for others with dementia, assistive technologies can be introduced. Through this introduction, people with dementia can also benefit with an avenue to live more independently and safely for longer in their own homes and communities. 
What is assistive technology?
Assistive technology refers to different types of devices, systems or applications that help to maintain or improve a person's ability to do things in their daily lives. 
Assistive technology could include:
Smartphone or tablet applications

Portable GPS enabled devices

Wearable technology such as a watch or wristband 

Environment and activity monitoring sensors

Voice assistant technology 

Automated devices, such as ovens, showers, and window controls
Assistive technology can help with things such as: 
Memory problems

Problems with carrying out tasks 

Communication, including speech and hearing

Mobility

Keeping safe inside and outside of the home

Maintaining independence and self confidence

Socialising and doing things you enjoy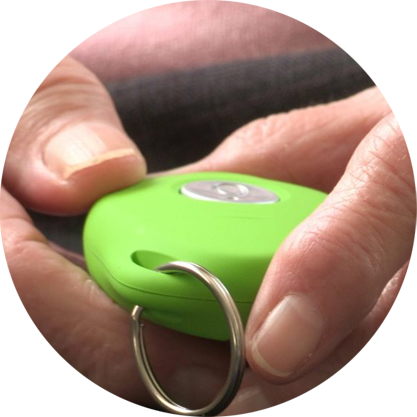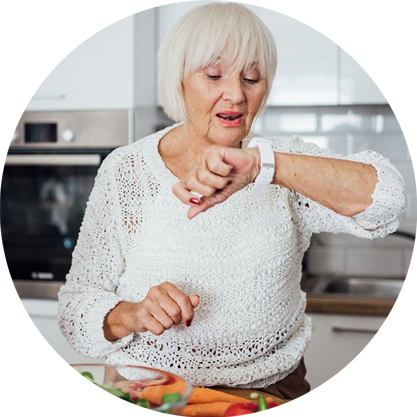 How can assistive technology help people with dementia?
Assistive technologies come in all shapes and sizes, from stand alone mobile devices to fully integrated care systems built into the home. Depending on the technology you introduce, people with dementia can take the steps towards maintaining their independence, keeping safe and staying active in their own homes and communities.
Everyday Living
Assistive technology enables people with dementia to live more independently with different technologies available to assist with their daily needs. This can include environmental tools such as climate control, temperature sensors, humidity monitoring, light activation and curtain and window controls. Assistive technologies can also include automated ovens, dishwashers, washing machines, electric showers, automated taps and toilets, making life more accessible and comfortable for people with dementia. 
Assistive technology can also be introduced to help people with dementia to manage and monitor their own health and wellbeing on a daily basis. Smart watches, wristbands and other tools can monitor vital signs such as blood pressure, heart rate and general activity levels, raising alerts when daily health levels dip. These devices can also be fitted with fall detectors and voice prompts and reminders, improving a person's daily safety and medication management. 
Personal Safety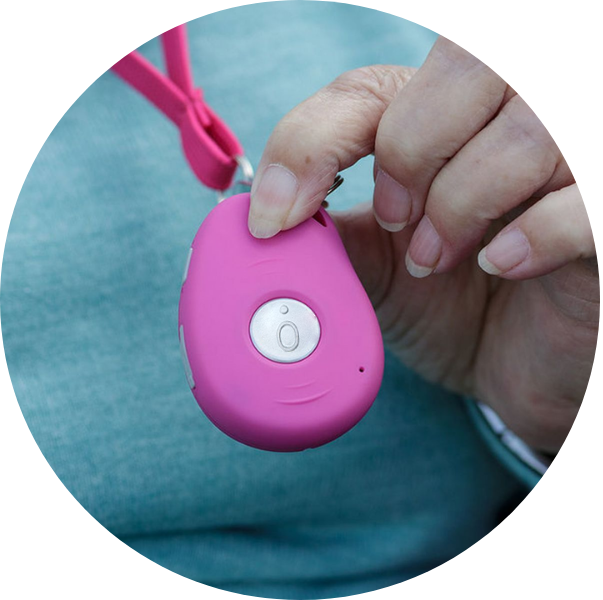 Assistive technology can support people with dementia to live with more safety and security, whether they live at home, in supported accommodation or in a care home setting. By introducing a personal safety device fitted with an SOS button and fall detection, people with dementia and their care circle can feel reassured of their safety whilst they are at home or in their community, with automatic alerts when an SOS is raised. 
Assistive technology such as ambient activity sensors placed in living spaces such as bedrooms, bathrooms and kitchens can also alert carers and family when a loved one with dementia is active in their home. These sensors placed around the home can also report on inactivity, raising a rule based alert when no activity is registered after a certain period of time. 
In a person's home, safeguarding technology such as flood, smoke, fire and carbon monoxide sensors can also be introduced to help improve personal safety by automatically summoning help in an emergency situation.
Monitoring
By introducing assistive technology, family members and carers can better monitor their loved ones with dementia who may be out walking and active in their community. Providing a loved one with a GPS enabled device or app with automatic fall detection and an SOS button enables people to go walks safely, whilst their location can be monitored in the event of an emergency. 
For people with dementia who are prone to wandering and disorientation, this same GPS device can be used to trigger an alert when a geofence is breached or entered. A geofence is a predetermined area that is outlined by a family member or carer that may be of danger if a loved one enters or exits this area. Geofences are commonly placed around areas of water or dangerous roads, or can be placed around a person's home, community or care home. 
To help people who commonly wander and have disorientation, door contact sensors can also be fitted to alert family members and carers when a loved one has left their home at a specific time, such as during the night. These same sensors can detect when doors have been left open, raising relevant alerts to assure loved ones are safe. 
Communication
Assistive technology can help people with dementia to communicate more effectively with loved ones, their carers and other health professionals. With the use of different video conferencing technologies, people with dementia can talk to loved ones, contact their carer for extra support and have video consultations with relevant health professionals. Similarly, mobile apps with built-in support functions can help people with dementia to contact friends and support to request for assistance, request emergency help or to generally chat. 
By introducing assistive technology such as an Amazon Echo Show, people with dementia can stay entertained at home whilst staying connected to friends and family, reducing social isolation, a prevalent issue for people living with dementia. Devices like the Echo Show can also help people to receive prompts, food and medication reminders and comfort messages throughout the day, enabling people to stay independent and on top of their own daily routines. 
How to obtain assistive technology
If you are living with dementia or supporting someone with the condition, you can obtain assistive technology to help support care and everyday living. There are a number of ways that you can obtain assistive technology, this can include: 
Contacting your local authority for a needs based assessment

Contacting your housing provider who may supply technology in supported, sheltered or extra care housing 

Buying it yourself 
At Communicare247, we offer a range of assistive technologies to support people living with dementia. Our range of connected devices are designed to support people to live safer, independent lives at home and in their communities and consist of a variety of mobile devices and at home sensor technologies. 
To find out more about how Communicare247 can help you get started with assistive technology, click the links below to explore our range of products and services.
You can find out more about how Communicare247 can help to manage health, wellbeing and safety by visiting our How We Help page. Professionals can also visit our dedicated For Professionals page.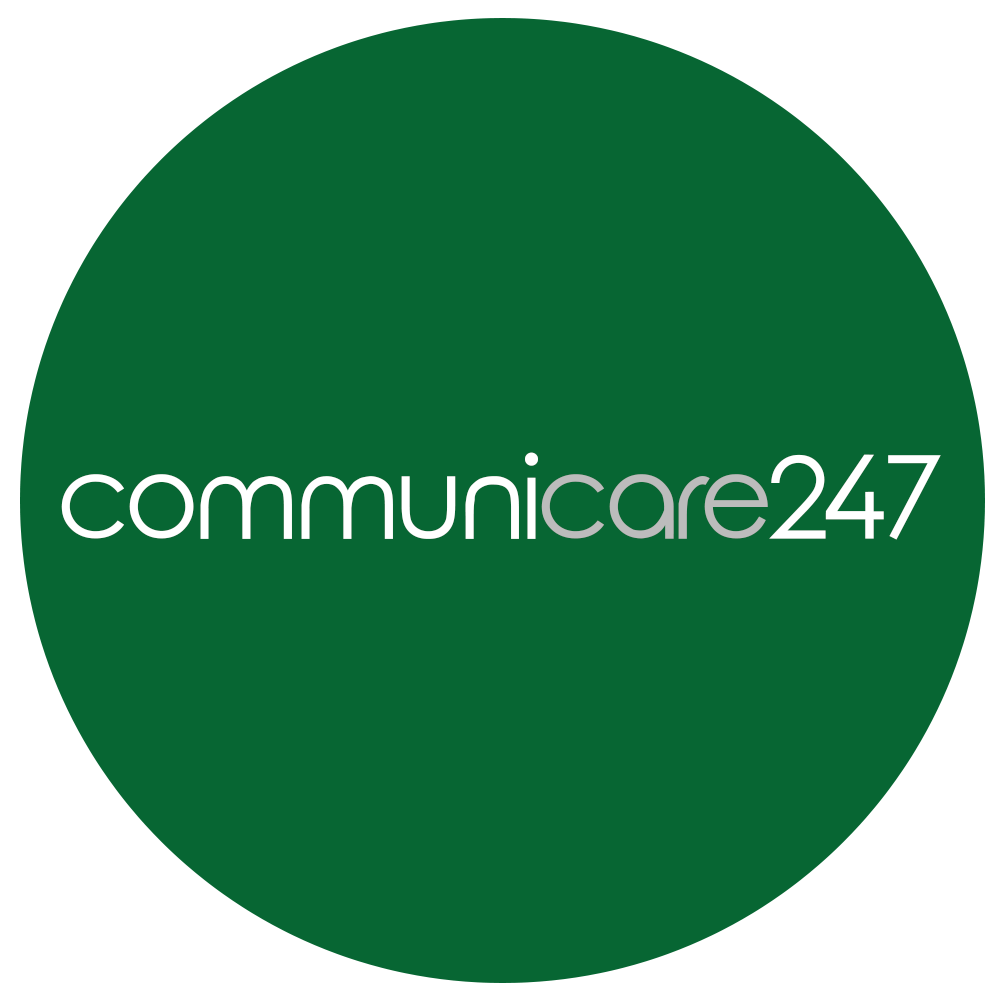 About Communicare247
Communicare247 is a health and social care service provider which delivers connected care solutions. Using secure digital technology and monitoring services, we enable citizens to remain safe and independent in their own homes for longer. Cloud services and effective technology provide valuable reassurance for individuals receiving care and permits sharing of information with families and care providers. The service helps to support service commissioners in balancing their duty of care with practical efficiencies capable of meeting modern day audit and resource challenges.